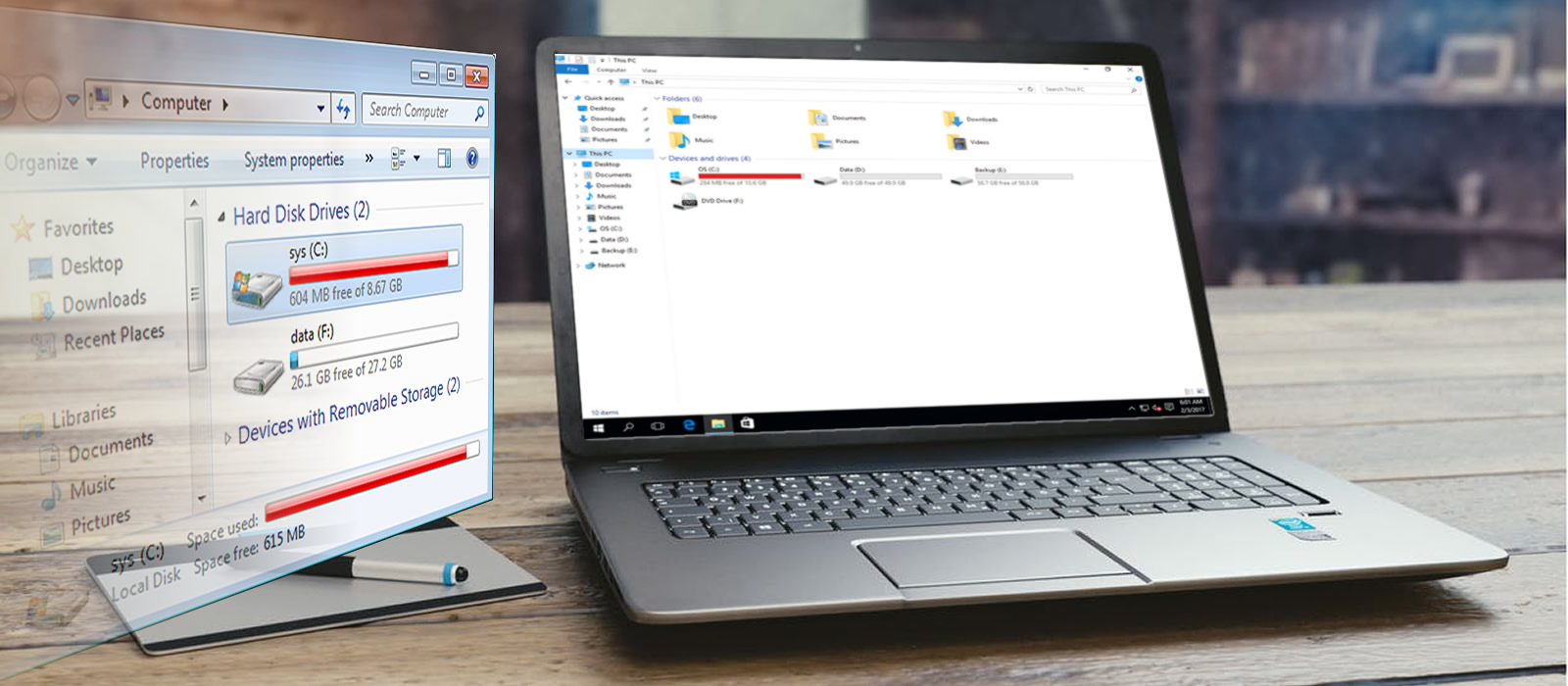 Do This To Get Back Space From Your Computer
Remember how excited you were when you got your brand spanking new computer? It had a great processor, a bunch of USB ports, a CD/DVD burner, memory to run multiple programs at the same time… you know… THE WORKS. And the hard drive, let me tell you about the hard drive, it was huge… lots of space for photos, games, and mp3s… it will last a lifetime.
Well, a few years go by and your hard drive is filling up fast. There are documents upon documents, games and videos are taking up a shameless amount of space. God knows how many music files! You have no idea what is taking up so much space.
It's time for a spring cleaning… a spring cleaning of your hard drive. We need to see what is taking up soo much space in your computer, decide if you really need them, and then delete, uninstall, or store them in an external drive. So, let's get started with finding out what those huge files are and get rid of them if you don't need them. We will show you some tools and tricks to search your PC and narrow down files and media that is taking up space.
There are a few tools built in to Windows Operating System that you can take advantage of to quickly get some hard drive space back. The advantage of these tools is that they are already installed. So with a few clicks, you are good to go. Nothing to install.
You can locate large files by utilizing a Windows search feature. What makes this search feature ideal for finding large files? Well, you can search files by a rages of sizes. The following are the rages that are available:
Empty (0 KB)
Tiny (0 – 10 KB)
Small (10 – 100 KB)
Medium (100 KB – 1 MB)
Large (1 – 16 MB)
Huge (16 – 128 MB)
Gigantic (> 128 MB)
This is how you use this feature:
Start

Windows Explorer

.

Click on "

View

", select "

Hidden items

". Now you will see hidden files.

Select the folders to search or go to

C:

(or other drive letter) and search the entire drive.

In the "

Search Quick access

" box on the upper right, type…

Size:

(make sure to include the colon sign)

To search for gigantic files, or files larger than 128MB:
Sort the list by right-clicking in the window and choosing Sort By—>Size. or Sort by —>Descending.

Looks for huge files, those that are lager than 1GB and see if you need them.

You can delete these:

These deleted files will be moved to your Recycle Bin.
So right click on your Recycle Bin and select ""Empty Recycle Bin."

Or, Archive them…which means moving them on to an external drive and out of your computer.