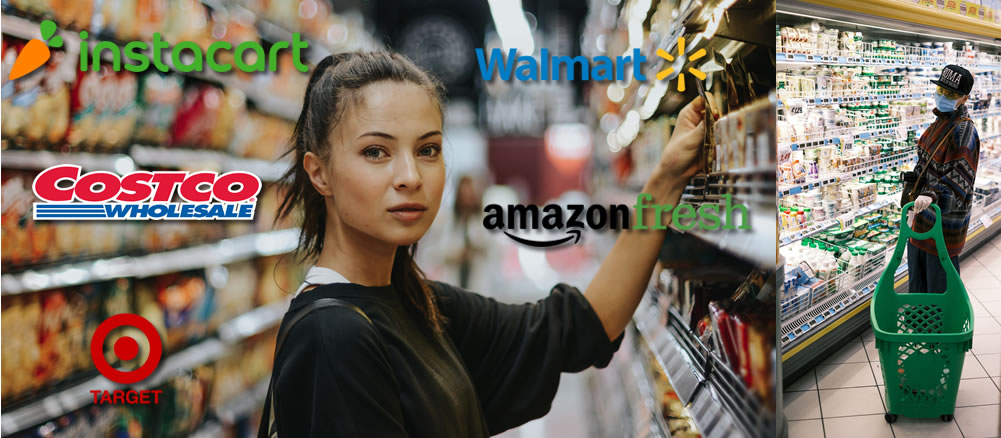 Ways to Get Groceries During the Coronavirus
It's the middle of March 2020, and there is a pandemic in full effect. The coronavirus outbreak has affected many of us in a way that no one could have imagined. Many States have ordered to limit public gatherings of 10 to to 50 people at a time, and schools are closed for the foreseeable future.
Most of you, hopefully, will limit venturing in to the public unless, absolutely necessary. Inevitably, we will run out of supplies, and no food and supplies means you must go out to shop for what you need, risking interaction with people, and possibly, with those who are infected.
With the need for grocery shopping being one of the top reason you must go out during these troubling times, I thought I might suggest some ways to avoid interaction with the masses and get your grocery list checked off in a safe and less riskily manner.
Curbside Pick Up From Grocery Store.
I was pleasantly surprised at how many grocery stores there are around my neighborhood that let you buy online and pick up in the parking lot. I will call this BO-PIP (buy online-pickup in parking) for short; who knows… maybe i will start a trend. I have seen these reserved spots for online pick up, but never paid much attention. Now, I am glad this option is available. Check you local grocery store's website and see if they offer BO-PIP, or in-store pickup.
Walmart, Sam's club, and Costco offer pick up in store for free.
I highly recommend the Walmart pick up service. Some Walmart's offer free grocery pickup service, and you can reserve a time and pickup location that is best for you. Walmart has certified personal shoppers who select the items on your list and bring them right to your car. You pay the same prices you get if you went into the store. Only credit cards are accepted. You are informed about your order details and when to pick up via text and email. Follow the orange signs that will lead you to the pick up location. Once you are at the pickup location, call the number on the sign. You do not need to tip for the service, this is a Walmart policy, Walmart offers 100% money back guarantee for this service, so if you are not happy, get you money back.
New customers; you can get $10 off orders of $50 or more. Just use WOWFRESH or TIMEBACK at checkout.
Click here to find the closest Walmart that offers this service near you.
Finally, use these apps so you can get your shopping from Walmart done from anywhere.
Groceries Delivered to Your Door
Grocery delivery services are gaining in popularity, offering more choices and competition for your business. All these services varies in costs, memberships, and deliver fees. Where one service is good in one area, it might not be the best in another.
Some deliver services (availability will very according to area): Instacart Grocery, Walmart Delivery, Safeway.com, Amazon Fresh Grocery Delivery, Amazon Prime NOW, Kroger Delivery, Peapod, and Shipt.
How Grocery Delivery Works?
Some will require memberships with monthly or annual fees, or optional memberships in exchange for free delivery. Amazon Prime Now and Shipt charge these fees.
If you don't want to pay a monthly fee for free shipping, cost a per-delivery fee can be around $8-$10, and service fees might also apply.
There will be markups, or added cost on top of the regular store price, from some service providers, such as Instacart or Shipt.
Grocery stores that deliver directly, such as Walmart and Kroger will charge the same price as in-store price.
Most grocery delivery services are available online or through an app on your phone. Use these apps to select and add items, and save carts and watch your cart total, which is good for budget conscious people.
Exclusive coupons and offers for delivery customers are offered.
Here is the Breakdown
| Vendor | Minum to Checkout | Deliver Cost | Membership | Member Ship Cost |
| --- | --- | --- | --- | --- |
| Safeway.com | None | $12.95 for Less than $150 | None | None |
| Safeway.com | None | $9.95 for $150 or more | None | None |
| Kroger | None | $9.95, Free with $35 advance order | None | None |
| Peapod | $60 | $7.95-$9.95 | Optional | $13 Monthly |
| Walmart Delivery Unlimited | $30 | $7.95-$9.95 | Optional | $98/year or $12.95 Monthly |
| Amazon Fresh | $35, $50 in NYC | $4.99 < $35 order | Required | $119/year; $12.99 Monthly |
| Target | $35 | $9.99 | Required | 99/year with Shipt |
| Amazon Prime NOW | $35 within 2 hours | - | Required | $119/year; $12.99 Monthly |
| Instacart | $35 | $5.99 | Optional | $9.99 |
| Shipt | None | $7; Free with $35 or more | Required | $99/year; $14 Monthly |
Generated by wpDataTables
Some Insight
Amazon Prime Now and Amazon Fresh
Confused with Amazon Prime Now and Amazon Fresh? Both are for Amazon Prime members only. The main difference is that Amazon Fresh is only for food and Prime Now includes other products. Prime Now deliveries the same day.
Prime Now offers a 2-hour delivery; check here if it is offered in your area. Check the app and on the website to find what local stores are offered in your area, like Whole Foods, which will qualify for additional savings.
With Prime Now, orders containing $35 qualify for free 2-hour delivery. Some additional fees and markups may apply, depending on your selection.
Instacart
Instacart is like having a personal assistant do your shopping for you while you manage them from your home. You pick a grocery store in your area and buy items from that store via the app, which are set by the retailers. Some products will be marked up higher than in-store prices, which can be as high as 25% and may vary depending on the size of your order and the time you specify for delivery. Expect, delivery fee of $3.99 and the service fee of 5% on the order total.
Instacart Express is the premium membership, which entitles you to receive unlimited free deliveries on all orders over $35, and the privilege to order from multiple stores with no additional costs.
My Best Recommendation for You
I recommend Instacart. They deliver food from Giant, Aldi, Whole Foods, QFC, CVS, Safeway, Costco, Metropolitan Market, Central Co-Op or PetCo. They even delivery from my favorite Korean store H-Mart (if you have not experienced a Korean store before, I highly recommend you visit one soon). You can sign up for a free 14 day trial of Instacart Express to try unlimited free deliveries with no minimums and no delivery fee. However, remember to cancel if you don't like the service since your account will auto-renew after the trail. From the Terms : A RECURRING ANNUAL MEMBERSHIP WILL BE AUTOMATICALLY CHARGED AFTER THE PROMOTIONAL TERM ENDS WITH THE CREDIT CARD ON FILE UNLESS EARLIER TERMINATED IN USER'S ACCOUNT SETTINGS
Check out the help center for more information: Instacart Help Center
The Good:
Same day delivery in 2 hours
Wide range of products
Great return/replacement options
Communication with you personal shopper is easy
Able to see in real time items being added and overall progress
Usually, the one picking up the groceries is the one delivering it as well
The Bad:
Adds 10% service fee to the order, which is not part of the tip, but can wave this fee
Products are marked up at some stores, such as Costco
Store sale items are sometimes not available
Without Instacart Express, delivery fees will increase for multi-store purchases
Problem with your order – Here is their policy:
Receive a delivery you're not completely satisfied with? In most cases, we can make things right quickly when you report a problem following the instructions below.
In the Instacart app or website, you can let us know about—
Missing items
Incorrect items
Damaged items
Poor replacements
Late orders
How to report a problem – Here is the policy:
Open the order you'd like to tell us about in the app or on instacart.com. You can also share any issues from the ratings screen.
To get started—
Select the Report a problem link OR select a specific issue under "Were there any problems?"
Choose the issue you experienced
Select any affected item(s) in your order
Select what you'd like Instacart to do to resolve the issue
Select Add another problem for additional issues
Click or tap Submit Issues to finish
You'll get an email confirmation right away for any credits or refunds, and we'll let you know as soon as any other issues are resolved.
If your order never arrived, please contact Instacart Care.
If I had to pick between Walmart pickup and Instacart delivery to replenish my groceries and supplies, I would go with Walmart pickup during these times when we are advised to stay apart from each other. Especially since, according to WDBJ7, Walmart is proactively updating policies to combat the coronavirus:
"For deliveries, goods will be loaded from the store while the driver stays in their car and another associate packs the vehicle. Deliveries to homes can be no-contact. You may now authorize drivers to leave your order at your door and not have to mark the driver's phone for accepting the delivery."
It is reassuring to know that steps are being taken to ensure people are safe. Hope that you do the same. Good luck and stay safe.